News
View printer-friendly version
January 4, 2023 at 7:01 AM EST
Coherus BioSciences Management to Present at the 41st Annual J.P. Morgan Healthcare Conference
REDWOOD CITY, Calif., Jan. 04, 2023 (GLOBE NEWSWIRE) -- Coherus BioSciences, Inc. ("Coherus", Nasdaq: CHRS), today announced that senior management will present at the upcoming 41st Annual J.P. Morgan Healthcare Conference on Tuesday, January 10, 2023, at 8:15 a.m. Pacific Time. The presentation and Q&A session will be accessible via Webcast through a link posted on the Investor Events Calendar section of the Coherus website: https://investors.coherus.com/upcoming-events. This webcast will be available for replay until February 10, 2023.

About Coherus
Coherus is a commercial-stage biopharmaceutical company focused on the research, development, and commercialization of innovative immunotherapies to treat cancer and the commercialization of our portfolio of FDA-approved therapeutics.
Coherus Contact Information:
Marek Ciszewski, J.D.
SVP Investor Relations
Coherus Biosciences, Inc.
IR@coherus.com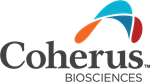 Source: Coherus BioSciences, Inc.