News
View printer-friendly version
January 9, 2023 at 8:20 AM EST
Coherus Agrees to Acquire Exclusive U.S. Commercial Rights to Eylea® Biosimilar FYB203 from Klinge Biopharma
Additional Growth Driver Projected to Significantly Increase Mid-to-Long Term Revenue Potential
REDWOOD CITY, Calif., Jan. 09, 2023 (GLOBE NEWSWIRE) -- Coherus BioSciences, Inc. (Coherus or Coherus BioSciences, Nasdaq: CHRS) announced today that it has executed a binding term sheet with Klinge Biopharma GmbH (Klinge Biopharma) for the exclusive commercialization rights to FYB203, a biosimilar candidate to Eylea® (aflibercept), in the United States. The parties expect to complete the transaction in Q1 2023, and Coherus plans to file a Biologics License Application with the U.S. Food and Drug Administration later this year. Coherus intends to launch the product at Eylea® biosimilar market formation, currently expected to be in 2025, if approved.

"This additional ophthalmology product will allow us to broadly target the entire $7 billion class of anti-VEGF products, substantially increasing our market opportunity to support mid-to-long term growth and revenue potential," said Coherus' CEO, Denny Lanfear. "This agreement extends the Company's commitment to expand choice and improve access for physicians and patients seeking high-quality, cost-effective alternatives in anti-VEGF therapies throughout the continuum of care."
"An Eylea® biosimilar will be an excellent strategic fit for Coherus given our demonstrated biosimilar commercialization competency as shown by UDENYCA®, as well as our recent successful launch of CIMERLITM, the first and only FDA-approved biosimilar interchangeable with Lucentis®", said Paul Reider, Chief Commercial Officer of Coherus. "The addition of an Eylea® biosimilar will be highly synergistic with our retina portfolio, leveraging our existing dedicated retina sales team and patient services hub to enable successful access and reimbursement."
Under the binding term sheet, Coherus will make a total upfront payment of approximately €30 million, comprised of cash and Coherus common stock, thirty days after the execution of the definitive agreements. Coherus will also make other regulatory and launch milestone payments and share profits approximately equally in consideration for the commercialization rights to FYB203 in the United States.
About FYB203: biosimilar candidate for Eylea® (aflibercept)
FYB203, which Klinge Biopharma has in-licensed from the German biosimilar developer Formycon AG, is being evaluated in a Phase 3 clinical trial (MAGELLAN-AMD) and topline results are expected in the next few weeks. MAGELLAN-AMD is a randomized, double-blind, multicenter study designed to evaluate the efficacy and safety of FYB203 compared to the reference product, Eylea®, in terms of safety, efficacy, and immunogenicity in patients with Neovascular (wet) Age-Related Macular Degeneration (nAMD). The study recruited 434 patients to receive one intravitreal injection of FYB203 every 4 weeks for the first 3 doses, followed by one intravitreal injection every 8 weeks through study completion. The primary outcome assessment is a change from baseline in Best Corrected Visual Acuity (BCVA) at 8 weeks.
Eylea® is a registered trademark of Regeneron Pharmaceuticals, Inc. and Lucentis® is a registered trademark of Genentech, Inc.
About Coherus BioSciences
Coherus is a commercial-stage biopharmaceutical company focused on the research, development and commercialization of innovative immunotherapies to treat cancer. Coherus' strategy is to build a leading immuno-oncology franchise funded with cash generated through net sales of its diversified portfolio of FDA-approved therapeutics.
In 2021, Coherus in-licensed toripalimab, an anti-PD-1 antibody, in the United States and Canada. The Biologics License Application for toripalimab in combination with chemotherapy as treatment for recurrent or metastatic nasopharyngeal carcinoma is currently under review by the FDA.
Coherus markets UDENYCA® (pegfilgrastim-cbqv), a biosimilar of Neulasta®, and CIMERLI™ (ranibizumab-eqrn), a biosimilar of Lucentis®, in the U.S., and expects to launch the FDA-approved Humira® biosimilar YUSIMRY™ (adalimumab-aqvh) in the U.S. in 2023.
About Formycon AG
Formycon AG ("Formycon") is a leading, independent developer of high-quality biopharmaceutical medicines, especially biosimilars. The company focuses on treatments in ophthalmology, immunology and on other key chronic diseases, covering the entire value chain from technical development to the clinical phase III as well as the preparation of dossiers for marketing approval. With its biosimilars, Formycon is making a major contribution towards providing as many patients as possible with access to vital and affordable medicines. Formycon currently has six biosimilars in development. Based on its extensive experience in the development of biopharmaceutical drugs, the company is also working on the development of a COVID-19 drug FYB207.
Forward-Looking Statements
Except for the historical information contained herein, the matters set forth in this press release are forward-looking statements within the meaning of the "safe harbor" provisions of the Private Securities Litigation Reform Act of 1995, including, but not limited to, statements regarding Coherus' ability to build its immuno-oncology franchise to achieve a leading market position; Coherus' ability to generate cash; Coherus' investment plans; Coherus' expectations for the launch performance of YUSIMRY™ and other products, including the licensed product candidate; Coherus' ability to realize multi-product revenue streams; expectations about signing definitive agreements under the binding term sheet, closing under those agreements and adding a biosimilar Eylea product to its portfolio of on market products and development candidates; future growth and synergy expectations; and remittance of any future upfront payments, milestone payments, royalties and profit sharing payments.
Such forward-looking statements involve substantial risks and uncertainties that could cause Coherus' actual results, performance or achievements to differ significantly from any future results, performance or achievements expressed or implied by the forward-looking statements. Such risks and uncertainties include, among others, risks related to our existing and potential collaboration partners including Coherus' ability to negotiate definitive agreements with Klinge Biopharma, the risks and uncertainties inherent in the clinical drug development process; risks relating to the COVID-19 pandemic; risks of the drug development position of Coherus' competitors; the risks and uncertainties of the regulatory approval process, including the speed of regulatory review, international aspects of Coherus' business, and the timing of Coherus' regulatory filings; the risk of FDA review issues; the risk of Coherus' execution of its change in strategy from a focus on biosimilars to a strategy using cash from its portfolio to fund an oncology franchise; the risk that Coherus is unable to complete commercial transactions and other matters that could affect the availability or commercial potential of Coherus' drug candidates; and the risks and uncertainties of possible litigation. All forward-looking statements contained in this press release speak only as of the date of this press release. Coherus undertakes no obligation to update or revise any forward-looking statements. For a further description of the significant risks and uncertainties that could cause actual results to differ from those expressed in these forward-looking statements, as well as risks relating to Coherus' business in general, see Coherus' Quarterly Report on Form 10-Q for the quarter ended September 30, 2022, filed with the Securities and Exchange Commission on November 8, 2022, including the section therein captioned "Risk Factors" and in other documents that Coherus files with the Securities and Exchange Commission.
UDENYCA®, CIMERLI™ and YUSIMRY™, whether or not appearing in large print or with the trademark symbol, are trademarks of Coherus, its affiliates, related companies or its licensors or joint venture partners unless otherwise noted. Trademarks and trade names of other companies appearing in this press release are, to the knowledge of Coherus, the property of their respective owners.
Coherus Contact Information:
Investor Contact:
Marek Ciszewski, SVP, Investor Relations
IR@coherus.com
Media Contact:
Jodi Sievers, VP, Corporate Communications
media@coherus.com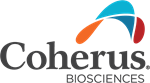 Source: Coherus BioSciences, Inc.